From the Shelf
Teen Readers Recommend
You'll notice a new reviews category in today's Shelf Awareness: Teen Readers Recommend. This section is something we're hoping to run every few months, wherein we give teens space to talk about current and exciting YA titles.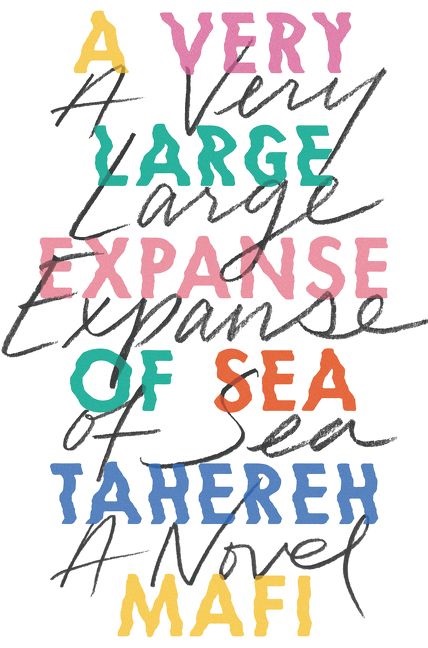 To make sure teens remain the focus of YA, schools, libraries, independent bookstores and publishers are all working to amplify teen voices--it's important to have reader feedback, and the evaluations and criticisms young adults bring to the table are invaluable to YA literature.
The teen reviewers in today's issue, Rifal and Mohammed, were each given a few book options and then selected the titles they wanted to review: A Very Large Expanse of Sea by Tahereh Mafi (HarperCollins) and Born Scared by Kevin Brooks (Candlewick Press). A Very Large Expanse of Sea features a Muslim teen's experience attending high school the year after 9/11; Born Scared depicts a teen with debilitating fear and anxiety who is forced to venture out into the world.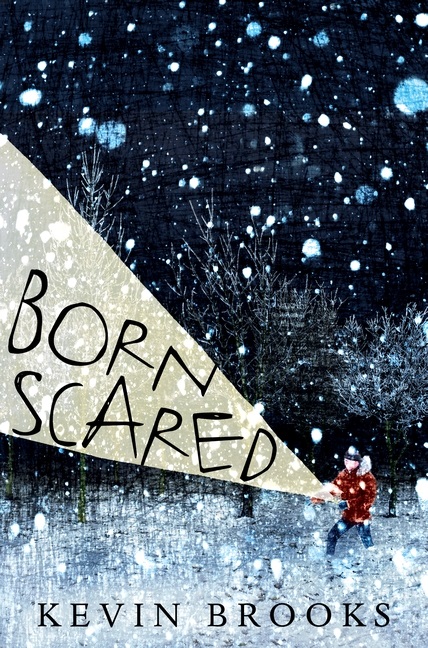 If you run a teen reading group, know teens or are a teen yourself who would be interested in reviewing for
Shelf
's Teen Readers Recommend, please reach out. Teens ages 16-18 can send an e-mail to
this address
with an attached 200-300-word essay introducing themselves and expressing their interest. Not only are they adding their voices to the conversation, they will also be compensated for their work. I adored working with Mohammed and Rifal and I hope you enjoy their reviews as much as I do. --
Siân Gaetano
, children's and YA editor,
Shelf Awareness

In this Issue...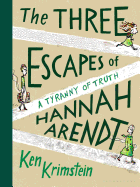 Ken Krimstein's The Three Escapes of Hannah Arendt is a lovely graphic novelization of the life of the political thinker.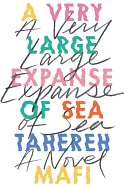 A Muslim teen navigates her way through love and hate in the aftermath of 9/11 in Tahereh Mafi's A Very Large Expanse of Sea.
Review by Subjects:
Fiction ⋅ Mystery & Thriller ⋅ Graphic Books ⋅ Biography & Memoir ⋅ History ⋅ Current Events & Issues ⋅ Poetry ⋅ Children's & Young Adult ⋅ Teen Readers Recommend

From Pages Bookshop
Upcoming Events
Author Visit: Half Gods by Akil Kumarasamy
10/23/2018 - 6:00PM
Join us in warmly welcoming author Akil Kumarasamy to discuss her debut story collection, Half-Gods. In her startlingly beautiful debut, Akil brings together the exiled, the disappeared, the seekers. Following the fractured origins and destinies of two brothers named after demigods from the ancient epic the Mahabharata, we meet a family struggling with the reverberations of the past in their lives. These ten interlinked stories redraw the map of our world in surprising ways:...
Jeffrey Eugenides Author Talk & Book Signing @ Wayne State Community Arts Auditorium
10/24/2018 - 6:00PM
In celebration of the paperback release of Fresh Complaint and the 25th anniversary of the landmark novel The Virgin Suicides, Pages Bookshop and Wayne State University's English Department are thrilled to welcome Pulitzer Prize-winning author, Jeffrey Eugenides, to the Community Arts Auditorium on the campus of Wayne State University. This event is FREE; however, the auditorium has limited seating and all attendees are required to reserve their seats by...
Author Visit: Vote Her In: Your Guide to Electing Our First Woman President by Rebecca Sive
10/25/2018 - 6:00PM
We are excited to have Michigan author Rebecca Sive come to speak about her book Vote Her In: Your Guide to Electing Our First Woman President right before the midterm election. Women are wildly underrepresented at every level of the US government: federal, state, and local. Research has shown that women in legislative and executive political positions are far more likely than men to commit to policies that benefit women and girls of all kinds, so after centuries of...
Poems of Sustenance: Days of the Dead
11/01/2018 - 6:00PM
We invite everyone, young and old, for one more night of ghostly mayhem! What better way to celebrate the chill in the air than with a poetry Read Aloud? Yes, the Days of the Dead extend from Halloween. Bring a spooky story, a haunted poem to share or pull up a chair and just enjoy. We will have some warm spiced cider with an extra ingredient for the adults. Consider this the last true day of October.
Author Visit: Hard Cider by Barbara Stark-Nemon
11/08/2018 - 6:00PM
Please join us in welcoming Michigan author, Barbara Stark-Nemon for her latest novel, Hard Cider. Abbie Rose Stone's acquired wisdom runs deep, and so do her scars. She has successfully navigated the shoals of a long marriage, infertility, challenging children, and a career. Now it's her turn to realize her dream: producing hard apple cider along the northern shores of Lake Michigan that she loves. She manages to resist new versions of the old pull of family dynamics that...
Author Visit: The Faygo Book by Joe Grimm
11/09/2018 - 6:00PM
We are thrilled to have local author, Joe Grimm to Pages to discuss his most recent book, The Faygo Book. Joe will be joined by Detroit Karen Dybis author. Karen has written several books about Detroit including, Better Made in Michigan: The Salty Story of Detroit's Best Chip. Come out and help us celebrate these two Detroit authors and food staples! The story of Faygo, Detroit's beloved soda pop, begins over a hundred years ago with two Russian...
Paneled Discussion & Seminar: How Do Authors Make A Living
11/10/2018 - 6:00PM
We are thrilled to be collaborating with Writing Workshops Detroit and hosting them for a paneled discussion centered around the central question, how do authors make a living? But, it would seem, this is a conversation that no one is having. It's no secret that there's little money in writing, and that competition for the few resources — prizes, residencies, — is fierce. From MFA programs to submission fees, we invest heavily in our craft but receive debt and rejection in...
Author Visit: Bill Harris, Steve Hughes, and Kim Hunter
11/15/2018 - 6:00PM
We are thrilled to have Made in Michigan Writers, Bill Harris, Steve Hughes, and Kim Hunter at Pages for their latest books, I Got to Keep Moving, The Official Report on Human Activity and Stiff, respectively. I Got to Keep Moving is a "book on time for these times." In the twenty-five linked short stories in his collection I Got to Keep Moving, Harris vividly and deftly describes the inner and outer lives of a wide cast of characters as...
Book Candy
Organizing Your Home Library
Mental Floss offered "7 expert tips and tricks for organizing your home library."
---
"The night Vincent was shot he saw it coming." CrimeReads quoted 25 of "Elmore Leonard's greatest opening lines."
---
William Sieghart collected his "top 10 poetry anthologies" for the Guardian.
---
Brightly offered tips for "how to get kids to read nonfiction."
---
Buzzfeed suggested "11 annoyances that make all book nerds swear under their breath."
---
Spoiled brats and ankle biters, for example. Merriam-Webster defined "8 words for other people's children."

Great Reads
Rediscover: The New York Trilogy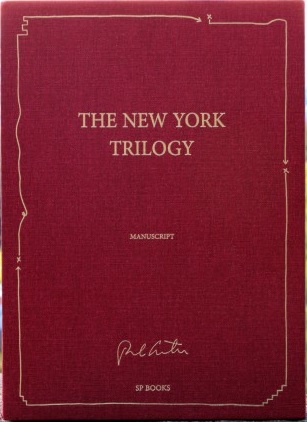 In 1985, Paul Auster's City of Glass introduced an important new voice in American postmodern fiction. After City of Glass, Auster wrote Ghosts (1986) and The Locked Room (1986). In 1987, these works were collected in a single volume as The New York Trilogy, a trio of meta-fictional detective stories full of experimental and ironic postmodern touches. In City of Glass, a strange case involving multiple layers of Paul Auster himself inserted in the book threatens the sanity of a writer turned private investigator. Ghosts finds a PI named Blue, trained by a man named Brown, tasked by a man called White to investigate a certain Black on Orange Street. The Locked Room, whose title references a popular scenario in mystery fiction, follows a struggling writer who steals the work and life of a vanished colleague.

Paul Auster has since published numerous works of fiction, screenplays, essays, memoirs and more. His major novels include Moon Palace (1989), The Music of Chance (1990), The Book of Illusions (2002), The Brooklyn Follies (2005) and, most recently, 4 3 2 1 (2017). On October 15, French publisher SP Books released a limited edition of The New York Trilogy featuring Auster's original handwritten manuscript and notes. SP Books, known for similar treatments to classic novels like Jane Eyre and Frankenstein, has 1,000 hand-numbered copies of The New York Trilogy available in iron gilded slipcases ($200, 9791095457558). --Tobias Mutter

The Writer's Life
Reading with... Ann Cleeves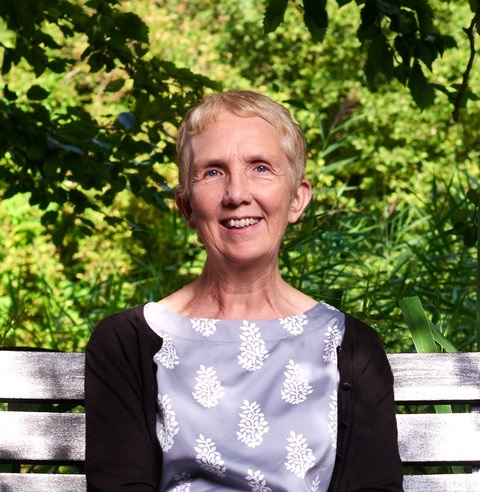 photo: Micha Theiner
Ann Cleeves writes two series of crime novels, both of which have been turned into TV series airing on PBS. The Vera Stanhope books have been made into the ITV series
Vera
starring Brenda Blethyn. The Shetland novels feature Inspector Jimmy Perez and are being filmed by the BBC and titled
Shetland
.
Raven Black
, the first Shetland novel, won the CWA Gold Dagger;
Wild Fire
(Minotaur, September 4, 2018) is the final entry in the series. Cleeves lives in England.
On your nightstand now:
I'm reading Laura Lippman's Baltimore Blues at the moment. I've just come back from the Harrogate Crime-Writing Festival in Yorkshire and she was appearing there. This is an early book and I love it. There are piles of books on the nightstand waiting to be read, so I'll just pick one more--a proof copy of A House of Ghosts by W.C. Ryan. His last book, The Constant Soldier, was one of my recent favourites.
Favorite book when you were a child:
Swallows and Amazons by Arthur Ransome. It had everything I wanted to spark my imagination: a wild and exciting place, friendship and adventure.
Your top five authors:
This is impossible and depends on my mood and where I am. But today, now, here we go:
Sara Paretsky. I admire her courage and wish I was more like V.I., her central character.
Louise Penny. I've known Louise for many years, in the way that writers bump into each other at book festivals and events, and we've become friends. Her Three Pines books are deceptively simple, but the moral dilemmas explored are complex and challenging.
Arnaldur Indridason. My reading passion is crime in translation, and one of my favourites is Icelander Indridason.
Alain-Fournier. Another translated author, but this is very different. The Lost Domain (Le Grand Meaulnes) is his only novel. It's a rite-of-passage book about love and friendship written at the beginning of the 20th century. I love his depiction of the French countryside.
Graham Swift. A wonderful writer who captures place beautifully.
Book you've faked reading:
Ulysses by James Joyce. I've started reading it several times and really got into the swing of it, but never quite finished it.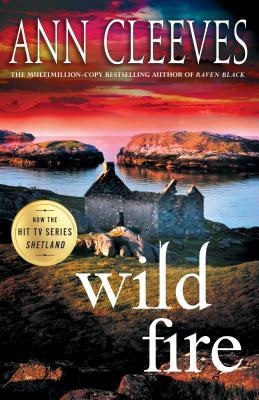 Book you're an evangelist for:
Little Deaths by Emma Flint.
This is a fabulous debut novel. Although the author is English, the book is set in Queens, N.Y., in the '60s, and the description of place and the dialogue feels authentic.
Book you've bought for the cover:
The Northumberland Coast by photographer Joe Cornish. I love the county of Northumberland, where I live. It runs from the River Tyne to the Scottish border. This is full of wonderful images of home.
Book you hid from your parents:
When I was a child, at night I hid everything, because I read on in bed much later than I was allowed to. During the day, I hid nothing. My parents were very open-minded and never censored my reading or decided what might be age-appropriate.
Book that changed your life:
A collection of G.K. Chesterton's Father Brown short stories, discovered in my library. It turned me on to detective stories for adults. Before that I thought mysteries were only for children.
Favorite line from a book:
"Only connect" --from Howards End by E.M. Forster. We still need to break down boundaries of class and wealth.
Five books you'll never part with:
Hilbre: The Cheshire Island: Its History and Natural History. When we were first married, my husband and I lived for four years on this otherwise uninhabited tidal island and it reminds me of being young and the great adventure.
The RSPB Handbook of British Birds by Peter Holden and Tim Cleeves. My husband collaborated on this book. He was a passionate birder and it reminds me of him.
A Maigret Omnibus by Simenon. I stole this book from an elderly couple and still feel dreadful about it. (I borrowed it and never gave it back.) It would feel even worse if I gave it away.
The collected novels of Smollett. These very old books were given to me by university friends for my 18th birthday. I've never read them, and we packed them up every time we moved. It's too late to part with them now.
A Bird in the Hand by Ann Cleeves. This was my first novel, published in 1986. I was so excited to receive it. I have two copies of the first edition, one for each of my daughters.
Book you most want to read again for the first time:
Gaudy Night by Dorothy Sayers. Not a great mystery, but a romantic love story.

Book Reviews
Fiction
Canongate, $16, paperback, 272p., 9781786892973
Rare Bird Books, $26.95, hardcover, 272p., 9781947856301
Mystery & Thriller
Minotaur Books, $27.99, hardcover, 432p., 9781250300034
Graphic Books

Bloomsbury, $28, hardcover, 240p., 9781635571882
Biography & Memoir
City Lights, $15.95, paperback, 168p., 9780872867864
Simon & Schuster, $37.50, hardcover, 912p., 9781416590316
History
Hurst, $29.95, hardcover, 256p., 9781849049870
Current Events & Issues
Gallery Books, $26, hardcover, 336p., 9781501180910
Poetry
37 Ink/Atria, $25, hardcover, 288p., 9781501179525
Children's & Young Adult
Groundwood Books, $18.95, hardcover, 32p., ages 4-7, 9781773060439
Random House, $16.99, hardcover, 240p., ages 8-12, 9781524719807
Teen Readers Recommend

HarperCollins, $18.99, hardcover, 320p., ages 13-up, 9780062866561
Candlewick Press, $16.99, hardcover, 256p., ages 12-up, 9780763695651
Dracul
by Dacre Stoker
and J.D. Barker
ISBN:

9780735219342


G.P. Putnam's Sons
October 2, 2018



an exclusive interview with bestselling authors Dacre Stoker and J.D. Barker

Your research for DRACUL led you to uncover a number of interesting facts about the author of the classic novel, Dracula. Can you share some of the mistaken perceptions about Bram Stoker?
Dacre Stoker: Bram Stoker never wrote an autobiography, so much of what people know about Bram may arise out of assumptions based on conjecture. I don't claim to know everything about Bram, but I do have the advantage of being able to piece together information from multiple documents, some that have been known and others which have recently been discovered. I have had the pleasure of deciphering and co-editing The Lost Journal of Bram Stoker, The Dublin Years with Dr. Elizabeth Miller, and the process allowed me to get to know Bram in a very close and intimate way. I have also had access to Stoker family lore, which was very helpful in our efforts to accurately characterize Bram, his brothers, and sister for our story DRACUL.
Read the rest of the interview here.

ALSO FEATURED ON THE
the big THRILL…
| | | | | |
| --- | --- | --- | --- | --- |
| | | | | |
UNDER MY SKIN by LISA UNGER: New York Times bestselling author Lisa Unger immerses readers in a world of darkness and a tale of suspense that gets under your skin, forcing you to try and parse what is real, and what is nothing more than a hallucination, or a dizzying blend of reality and dream. Read more at The Big Thrill.
THE LIFE AND TIMES OF SHERLOCK HOLMES: ESSAYS ON VICTORIAN LONDON by LIESE SHERWOOD: Inspired by a fasciation of the Victorian Age, author Liese Sherwood delivers a thorough companion guide for anyone who can't get enough of the legendary English detective, or that seemingly endless list of writers who insist upon resurrecting Sherlock Holmes, or some facsimile of him in their work. Find out more here.
THE KILLING JOKE by CHRISTA FAUST & GARY PHILIPS: One of the most influential and popular of all graphic novels turns 30 this year, and to celebrate it, Titan Books and DC Comics have commissioned author Christa Faust and Gary Phillips to explore, expand, and write the novelization of THE KILLING JOKE. Learn more at The Big Thrill.
THAT WHICH GROWS WILD: 16 TAKES OF DARK FICTION by Eric J. Guignard: Author Eric J. Guignard puts together 16 previously published works to deliver a page-turning corpus of dark tales that shy away from cliched monsters and glorified gore, and instead provide chilling perspective on horror and heartbreak, hope and atonement, and the emotional despair of oblivion. Visit The Big Thrill for more.
EVERY WICKED MAN by STEVEN JAMES: The bestselling author of the popular Patrick Bowers series tells a spell-binding tale in this 11th—and final—Bowers book in which the FBI agent has to unravel a baffling mystery involving forced suicides, some very unusual mannequins, and a troubled novelist who may or may not be a serial killer. Read more here.