From the Shelf
Boisterous Board Books
Silly books can make for some great read-alouds. Here we have three board books perfect for sharing, playing and laughing.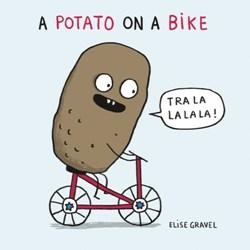 "Have you ever seen... poop wearing glasses?" (Because without them, the poop can't see.) In A Potato on a Bike (Orca Book Publishers, $10.95, ages 0-2), Elise Gravel asks pre-readers if they have seen a bunch of absurd scenarios--a carrot bathing, a fly talking on a phone--then helps them with the obvious answer: "No way!" But so many no's must be leading to a "yes," right? Well, that comes at book's end when Gravel asks, "Have you ever seen... someone tickling a baby?" You know the answer.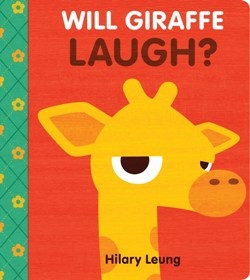 Giraffe is grumpy so his friends decide to cheer him up. In Will Giraffe Laugh? (Cartwheel Books/Scholastic, $7.99, ages 0-3), Hilary Leung's big-eyed animals unsuccessfully try a number of things to make Giraffe laugh: Bear juggles a plunger onto Giraffe's head, Sheep accidentally attacks him with a balloon animal and Frog somehow traps him with its tongue. When Giraffe's friends get grumpy, though, Giraffe realizes it's his job to cheer them up.
In Where Is My Pink Sweater? (Abrams, $8.99, ages 3-5) by Nicola Slater, Rudy, a tiny blue animal with big floppy ears, has lost his pink sweater. "It was a bit too small and showed his belly button. But it was his favorite." Searching the house, he receives hints about his sweater's location from "NINE jiving llamas," "EIGHT prima pigerinas," even seven dogs "slaloming on the stairs." It's not until he reaches ONE--a younger sibling, of course--that he finds his favorite sweater. --Siân Gaetano, children's and YA editor, Shelf Awareness

In this Issue...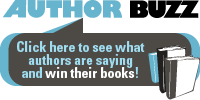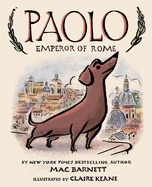 Little dog Paolo explores the great city of Rome in this charming and beautifully illustrated picture book by Mac Barnett and Claire Keane.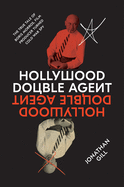 Like a multiplex blockbuster, this biography of a Russian-born Hollywood player turned spy has it all: intrigue, glamour, humor, romance and danger.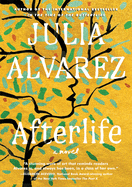 In this moving novel, a widow must find her distressed sister and help an undocumented couple while contending with her own mortality.
Review by Subjects:
Fiction ⋅ Mystery & Thriller ⋅ Science Fiction & Fantasy ⋅ Biography & Memoir ⋅ Social Science ⋅ Children's & Young Adult

From Pages Bookshop
Upcoming Events
August GR Virtually Reads: Orphan Train
08/11/2020 - 6:00PM
This month we are reading "Orphan Train" by novelist Christina Baker. Whether you have just started the book or finished it months ago, all are welcome to come and join our book club, we would love to have you! This book club is a virtual book club. You can join it here or copying the link into your browser: https://meet.google.com/qts-qdtc-ewz This book club is free and open to the public. Purchase your copy at Pages and get 15% off. This book club meets the first Tuesday of every...
Pages Bookshop & WDET Present: John Moe
08/13/2020 - 6:30PM
Pages Bookshop and WDET are excited to present a live conversation with author and radio broadcast host John Moe to discuss his new book "The Hilarious World of Depression." John will be joined in conversation by the host of WDET's CultureShift, Amanda LeClaire. All ticket sales from this event will go towards WDET's fundraiser to raise 2 million dollars before September 30th. To learn more about their fundraiser please visit WDET's website. Tickets are available at different amounts in...
Pages Bookshop Virtually Presents Nandi Comer
08/18/2020 - 6:30PM
Looking for something to help you get through this long, hot summer? We have just the thing! Join us for an evening of poetry with Detroit writer and poet, Nandi Comer. Nandi's latest book of poetry, Tapping Out came out this past May and since we couldn't celebrate with her at Pages, we've decided to take the celebratory reading to a virtual realm. You can register for this event here. You can buy Nandi's book of poetry here. About Taping Out The relentless motions...
Pages Bookshop Virtually Presents: francine j. harris & Raven Leilani
08/25/2020 - 6:30PM
We are beyond excited to virtually host poet francine j harris and debut novelist, Raven Leilani for their newest books "Here is the Sweet Hand and "Luster." Both francine and Raven's books come out on August 4, 2020! We cannot wait to hear what these incredible writers have to say to each other and learn more about their books and what it's like to have them come out now. This conversation with be hosted on Crowdcast. You can register for the event here. You can...
Book Candy
Writers on 'Lockdown Life'
Hilary Mantel, Simon Armitage, Jeanette Winterson and other writers reveal how they're surviving the corona crisis. (via the Guardian)
---
"This livestream of a bird library is perfect quarantine viewing for you and a cat," Lit Hub promised.
---
Merriam-Webster asked: "Is there an easy way to remember whether you want affect or effect?"
---
"Let your mind wander with these gloriously detailed maps," Atlas Obscura suggested.
---
Do you know your Harry Potter spells from your constellations?" Mental Floss challenged.

The Burning
by Laura Bates
Feminist activist Laura Bates is no stranger to the stories of girls and women who experience gender inequality and cruelty. As founder of the Everyday Sexism Project and author of several nonfiction books (Everyday Sexism; Girl Up; Misogynation), she is helping make a cultural shift away from the centuries-old tolerance for sexist attitudes and behaviors. The Burning, her debut work of young adult fiction, could just as easily be nonfiction. Deeply researched and drawing on the countless experiences of girls and women around the world, the novel pulls no punches.
Anna Clark is looking for a fresh start. After a calamitous year in which her father died of cancer and her boyfriend shared nude pictures of her on social media--which led to a bullying campaign--she and her mother moved from Birmingham, England, to a small village in Scotland. Their hope was that they would leave everything behind, especially Anna's unwarranted reputation as a "slut." Unfortunately, the Internet has a way of catching up with a person and soon enough, Anna's fledgling new life as a regular 15-year-old girl is thrown into chaos. This time, however, investigating a centuries-old tragedy for a school history report helps keep her from being completely engulfed in her retraumatization.
While researching, Anna comes across a footnote in a book that refers to a mid-1600s witchcraft trial in her village. Intrigued, Anna digs deeper, discovering fragments of information about Maggie Morgan, a 17-year-old girl from a fishing family, who had the misfortune to catch the attention of a local nobleman. Unaccustomed to having his advances spurned, especially by girls of lower social status, he pursued her even when she said no. He raped her and, when she could no longer hide the resulting pregnancy, she was punished and humiliated by the village ruling council and citizens, who knew better than to accept her claim that the baron's son was the father. When the nobleman was lost at sea after the baby was born, the villagers accused Maggie of witchcraft.
Anna relates all too well to Maggie's wrongful punishment and humiliation. Her hands are full and her heart is breaking as she deals with her new classmates' cruel verbal and digital abuse; though Anna is growing accustomed to having friends abandon her, it still hurts. As she pieces together the story of the long-ago travesty, she begins having strange, lucid dreams, as if she herself were Maggie. Anna becomes obsessed with these visions, eager to learn more of Maggie's story: "At night I hurtle through the terrifying ordeal of Maggie's world. By day, I hurtle through a terrifying ordeal of my own."
Though her local research source minimizes Maggie's punishment and murder by saying "these were different times," Anna knows better than most just how untrue this statement is. The lives of Anna and Maggie, four centuries apart, come into parallel formation. Each is shamed and silenced not by what she herself did, but by something a boy has done to her. Each grows isolated as friends distance themselves. And, despairing, each descends into self-hatred and guilt. Anna: "Nobody wants to be associated with a slut." Maggie: "If only your neighbors knew their taunts pale into insignificance beside the harshness of the words you hurl at yourself."
Although The Burning is packed with the kind of ideas and situations that could populate a dissertation, it reads as a painfully realistic, spellbinding novel. For example, soon after her new classmates discover her past, Anna stumbles upon a "fierce knot of gossip" outside her classroom: "Just as well [her dad] doesn't have to die of embarrassment at his daughter tramping around all over the internet." Anna's emotions churn. "I feel something inside me snap. Fury fills me like rocket fuel, propelling me forward, out of my hiding place, ready to... I don't know what... ready to explode, or hit them, or scream that it wasn't like that, that I didn't do it for attention, that I never wanted any of this." Like real people living in a complex world, the characters live in shades of gray, feeling guilt and shame right alongside their outrage and self-righteousness.
Readers will be drawn in from page one of Laura Bates's well-paced novel, riveted by the side-by-side stories of wronged girls living centuries apart. Bates plants readers squarely in the minds and hearts of two girls who, like so many, swiftly and all too easily find themselves on the wrong side of justice. Woven into Anna's first-person narrative are second-person flashbacks to Maggie's lifetime, evoking the infuriating side-by-side impotence of being trapped in a culture of gender inequity. Readers will cheer when someone finally does speak up on behalf of girls, and maybe even pick up a pointer or two on how to fight back against sexism. --Emilie Coulter
Sourcebooks Fire, $17.99, hardcover, 352p., ages 14-up, 9781728206738
---

---
Laura Bates: Confronting Sexism Across Centuries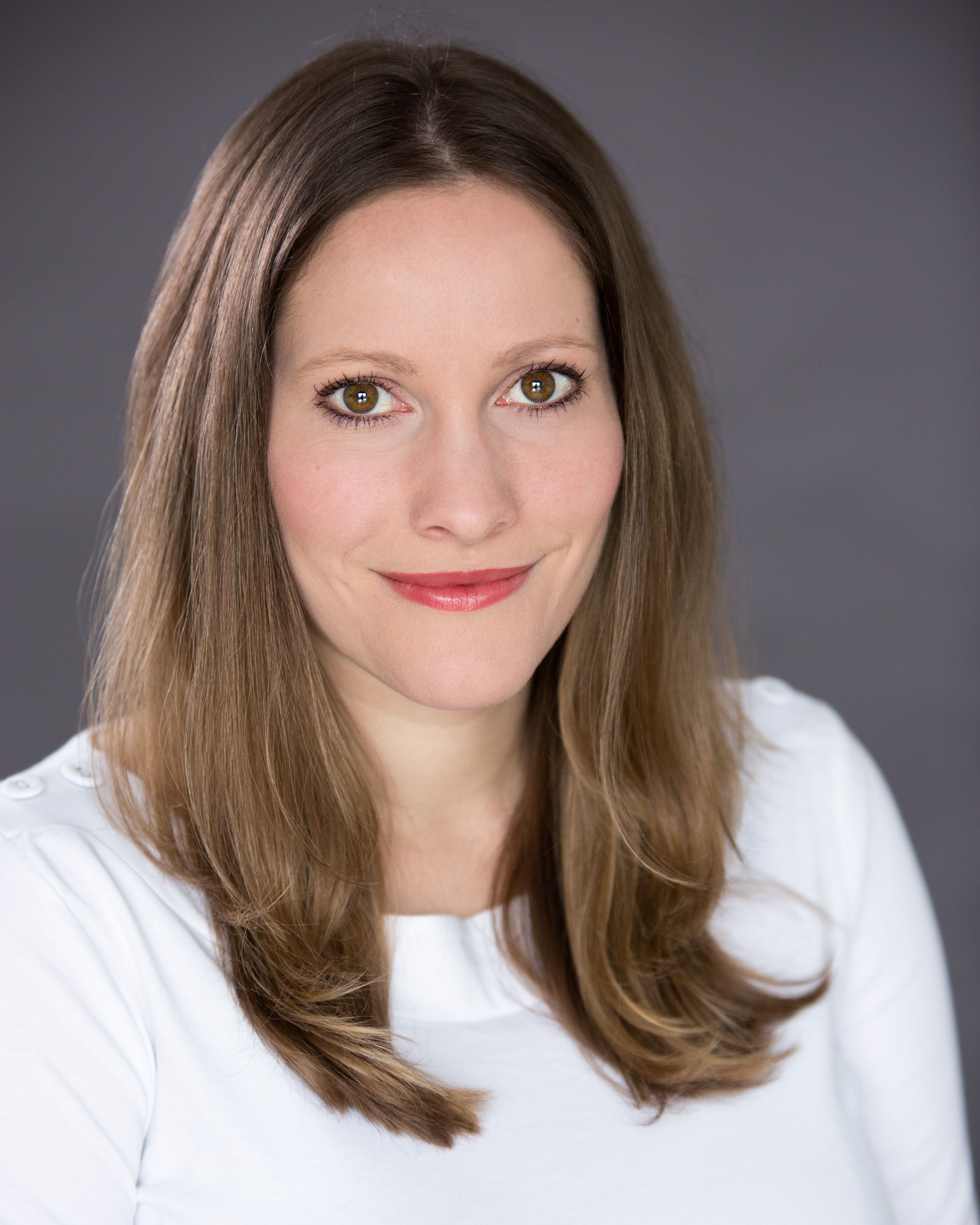 (photo: Siggi Holm)
Laura Bates is a U.K.-based author and the founder of the Everyday Sexism Project, a crowd-sourced collection of stories from women around the world about their experiences with misogyny and sexism. Bates writes regularly for the Guardian, the Independent and Time, among others, and is the author of Everyday Sexism, Girl Up and Misogynation. The Burning (Sourcebooks Fire, April 7, 2020) is her first work of fiction.
The Burning draws a parallel between the contemporary concept of "slut-shaming" and the 17th-century practice of prosecuting and executing young women as witches. How have things changed between the 1600s and now?
One of the things that most shocked me when I began my research was just how little has really changed. If you read the transcripts and records of the 17th-century witch trials that swept through Europe, you see the same obsession with shaming and controlling women, the same fear and stigma around their sexuality, the same tendency to blame victims instead of perpetrators. Girls are still being told their bodies are powerful and dangerous, and it is their job to cover them up and to pay the price for the behavior of their male peers. Boys are still being taught they are not responsible for their own actions. So little has changed.
Anna is 14 when her boyfriend shares a nude photo of her on social media. She, like far too many girls and young women today, is then sent down a nightmarish path of viral social media infamy and local harassment. What do you hope readers will take away from Anna's experience?
For a generation of digital natives, the enormous pressure to send nude pictures and the extreme slut shaming of girls who do is almost mundane. But for the generation of non-digital natives who parent and educate them, the story comes as a shock, with many struggling to believe it can really be happening. I wanted to provide a window into this world for adults who might not be aware of the reality of teenagers' online lives. And for young women, who repeatedly receive the message that this is their own fault, I wanted to show that they have nothing to be ashamed of, and that they can take back control of their own stories.
After she and her mother flee their home in England for a "fresh start" in Scotland, Anna is terrified her new friends and peers will learn her secret. Is there any such thing as a fresh start in the age of social media?
We are still struggling with the inadequacies of social media platforms when it comes to keeping users safe online. But I feel hopeful that norms can change and protest can make a difference. We are seeing a wave of courageous and powerful young women speaking out about their experiences and refusing to be silenced. My hope in The Burning was to show that you don't necessarily need to erase the past in order to overcome it--that we need to build a more tolerant and fair society that gives survivors a second chance.
Anna has a strange, almost mystical connection with Maggie, the young woman who lived in her village almost 400 years ago. How did you hope Maggie would help Anna get through her traumatic ongoing experience?
One of the very worst parts of being shamed and abused, as both Anna and Maggie discover, is the feeling of being alone. The young women I work with who have experienced revenge pornography or slut shaming are often cruelly isolated and left feeling that nobody is on their side. I hope The Burning offers a message of hope: that female friendship and solidarity is one means of overcoming and resisting the sexist abuse girls face. I wanted to symbolize that by building a sustaining bond between Anna and Maggie, even though their stories unfold four centuries apart.
Why didn't Anna's or Maggie's friends continue to stand by their sides?
One of the cruelest aspects of misogynistic persecution is the intense pressure it places on women and girls to turn on each other in order to survive. Four hundred years ago, this manifested itself as the urge to shout "I saw Goody Johnson with the Devil," because accusing another woman of witchcraft could save you from suspicion. Today, it emerges when girls are driven to join in the slut shaming of their peers in order to protect themselves from similar treatment.
There are two scenes when Anna finally gets the kind of kickass support she needs--once when her mom confronts her school headmaster and again when she and her new friends respond to the social media trolls in a powerful way. Is this kind of response to misogyny and injustice possible in the real world?
I know that it is possible, because the scene with Anna's mother is based on a real-life mom! But I also know that it isn't easy. The very best thing any one of us can do is to confront this in our own sphere. The more we protest and challenge these issues, the less normalized and socially acceptable they become, and that is the only way to create the cultural shift we need to see.
As a feminist, writer and visionary, you have won many awards and countless social media followers. What started you on the trajectory of feminism?
In 2012 I was sitting on a bus when a man next to me put his hand on my leg and suddenly grabbed my crotch. I was on the phone to my mum at the time and, shocked, I stood up, moved away from him, and told her, "I'm on the bus and a man just groped me." Everybody on the bus heard. And everybody looked out the window. Their silence made me feel ashamed, embarrassed and to blame, and I got off the bus and walked the rest of the way home. Looking back, I realized that their responses sent that man a powerful message, too: You can get away with this. Nobody will challenge you. I realized that sexism is so normal we don't even react when it happens right in front of us. I wanted to find a way to make the invisible problem visible, and hopefully to help people understand they had a choice to make--to stand up and say something, or continue looking out of the window. --Emilie Coulter
---
Shelf vetted, publisher supported.

Great Reads
Rediscover: The Great Influenza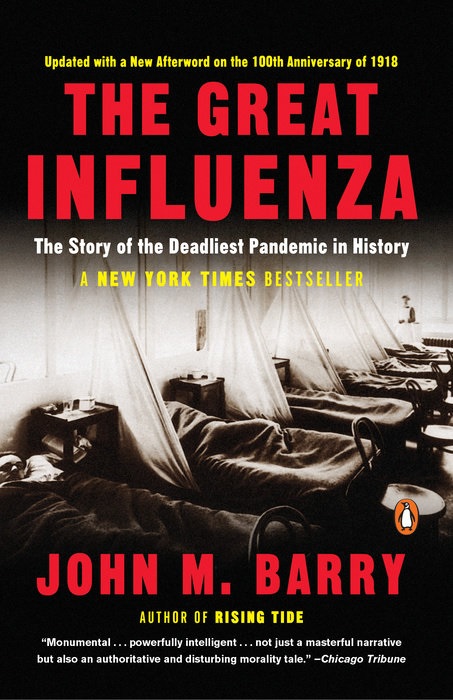 Fifteen years before the global outbreak of coronavirus,
according to a recent ABC report
, George W. Bush was on vacation at his Texas ranch when he read an advance copy of
The Great Influenza: The Story of the Deadliest Pandemic in History
by John M. Barry, an account of the 1918 Spanish Flu epidemic. The book (previously featured here) convinced Bush to launch a pandemic preparedness initiative. According to then homeland security advisor Fran Townsend, the president said, "Look, this happens every 100 years. We need a national strategy." Bush spent $7 billion on his prepping push. Unfortunately for us, the funding for these plans--for staffing, equipment stockpiles, emergency hospital capacity and vaccine manufacturing capability--failed to survive subsequent administrations.
Published originally in 2005,
The Great Influenza
won the Keck Award from the National Academies of Science for outstanding book on science or medicine. It is available in paperback from Penguin Books ($19, 9780143036494) and includes a new afterword from Barry marking the 100th anniversary of the Spanish Flu pandemic. --
Tobias Mutter

Book Reviews
Fiction

Algonquin, $25.95, hardcover, 272p., 9781643750255
Morrow, $27.99, hardcover, 384p., 9780062941503
Farrar, Straus and Giroux, $15, paperback, 256p., 9780374538361
HarperVia, $25.99, hardcover, 288p., 9780062946294
Mystery & Thriller
Berkley, $26, hardcover, 320p., 9780593100066
Forge, $27.99, hardcover, 352p., 9781250317582
Science Fiction & Fantasy
Tor, $26.99, hardcover, 352p., 9781250203939
Biography & Memoir
Houghton Mifflin, $28, hardcover, 272p., 9781328604392
Social Science

Abrams, $27, hardcover, 336p., 9781419740091
Haymarket Books, $28.95, hardcover, 420p., 9781642591484
Children's & Young Adult

Abrams, $17.99, hardcover, 48p., ages 4-8, 9781419741098
Dial Books, $17.99, hardcover, 368p., ages 14-up, 9780525554264
--- SPECIAL ADVERTORIAL OFFERINGS ---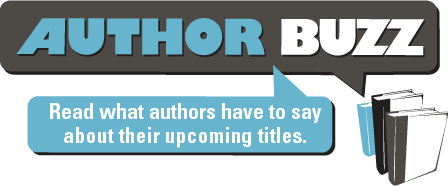 Dear Reader,

In Japanese Occupied Singapore, Mirza, a known collaborator, is found murdered clutching a mimosa branch. Su Lin's Uncle Chen is a suspect and Hideki Tagawa, former spy and power in the new regime, offers Su Lin her uncle's life in exchange for using her knowledge of local ways and languages to find the real killer. But the secrets she unearths strike painfully close to home…

Email me at ovidiabookwriter@gmail.com to win one of five signed copies.

Ovidia Yu
www.ovidiayu.com




Publisher:
Constable

Pub Date:
September 8, 2020

ISBN:
9781472132024

List Price:
$15.99
---